HOW TO PRE-NUP
Marilyn Longwell
Marilyn Longwell & Assoc., P.C.
Prenuptial agreements have been around a long time and seem to be popular lately.  Often prenups are looked upon as an indication of selfishness or a lack of real commitment to a marriage.  Whatever it may be in any particular case, both of the parties to the agreement should approach it as an opportunity to have a real discussion of their impending marriage.  The nature of the discussion will differ according to the circumstances, but it is a chance to examine all of your assumptions about the marriage.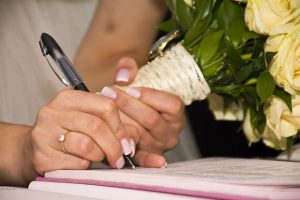 We all make assumptions about marriage, especially our own.  Most of those ideas come from the family we grew up in, whether the assumptions are good or bad and mostly we assume our future spouse sees the world in the same way.  One example of such assumptions is the idea that one spouse will quit a job and remain home with children until some point in time when he/she may or may not return to the workforce.  Another is that one spouse will manage all of the finances of the household.
Many couples who have been previously married carry assumptions like memories of their last marriage into the new relationship.  Depending on how the last one ended, that could be good or bad and only some of those memories can be remedied by a prenuptial agreement.
Here are the things you cannot do in a prenup:  You cannot make any provisions regarding children, including custody, parenting time, decision-making or child support.
Here are things you can do:
Define what, if anything, will be considered marital (joint) property and income and agree on how to divide it in the event of a divorce, and define what will remain the separate property and income of each of the parties;
Define how the finances of the family will be handled, including contributions from non-marital income or property and who will do the handling.
Make provisions for, or eliminate, maintenance (also called alimony) for the parties.

 

These provisions should be applied to both parties, though it doesn't need to be identical.
Make provisions for your estates.

 

Many parties who have remarried want the right to leave all of their property to their own children without the spouse being able to assert his/her statutory share of the estate under the probate act.

 

So the spouses would have to waive their right to challenge the other's will if it didn't leave them their statutory share of the other's estate.
All of these parts of a prenuptial agreement should be the subject of a real discussion between the future spouses, and not merely a negotiation between their attorneys.  By having a real discussion you can confront your own assumptions you have carried from the past and make decisions about what you want your future to be with this person.